The Cracked Chronometer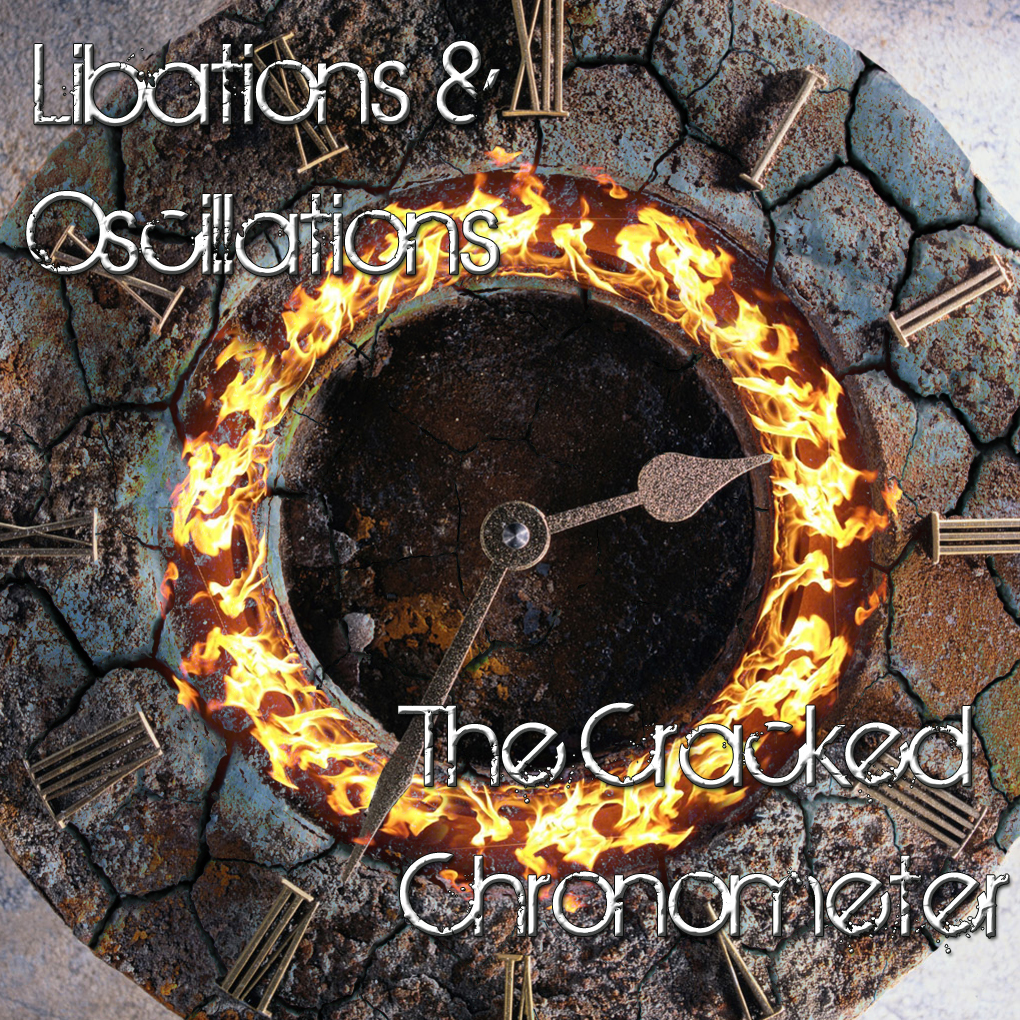 When Dotti asked us to do the music for the effigy burn, it was an incredible honor. The energy from Flipside 2010 is what fueled the creative fire that forged the group Libations & Oscillations. Before that, we were just two solo artists, Joseph Noctum and Tonebreaker. It has become tradition that we always have a story that goes along with our mixes and this one is no different. In this tale, Dr. Dirigible (Tonebreaker) and The Outlaw Saint (Joseph Noctum) have affixed an ancient Duergar chronometer to their airship, the S.S. Discord. According to legend, this device will allow them to sail the temporal seas firsthand. However, upon entering the tesseract, the chronometer cracks and sends our band of ne'er-do-well's skittering through the fabric of spacetime. The resulting adventure through past, present, and future is transcribed in sound for your listening enjoyment. We used all of our skills mixing, sampling, remixing and producing this arrangement to make a cinematic tour that spans a myriad of musical styles. Marrying the world of acoustic and electronic music, we hope you enjoy this auditory accompaniment to the stunning visuals, performances, pyro and ultimately, our 2012 burn.
Samples and Tracks in the order in which they appear.
1. Miroslav Losonsky – Neanderthal
2. Griff – Improbability
3. Great Scott – Looking Good (Instrumental)
4. The Glitch Mob – Beyond Monday
5. Mongoose – Dragon Slayer
6. Kalya Scintilla – Caravan Planet
7. Birds Of Paradise – Lucid Dream
8. Cassette Culture – We Once Had An Empire (Jungle Fiction Remix)
9. Daft Punk – Rinzler (Kaskade Remix)
10. Akira Kiteshi – Iron Man
11. Bassnectar – Boombox (Bassnectar & Ill.Gates Remix)
12. The Glitch Mob – Animus Vox
13. Muse – Knights Of Cydonia (Gramatik Remix)
14. Great Scott – Mad Hydraulic Bounce
15. Kalya Scintilla – Way Of The Tarot
16. Emancipator – Rattlesnakes (saQi Remix)
17. Pretty Lights – Somethings Wrong
18. Bird Of Prey – Pathfinder feat. Ryan Johnson and Robert Rich
19. Trifonic – Growing Distance Pt. 2 (Instrumental)
20. C2C – F-U-Y-A
21. Benn Jordan – Sunrise In Blue Skies
22. Massive Attack vs. The Bug – Catch A Fire Sam (Libations & Oscillations Cocktail)